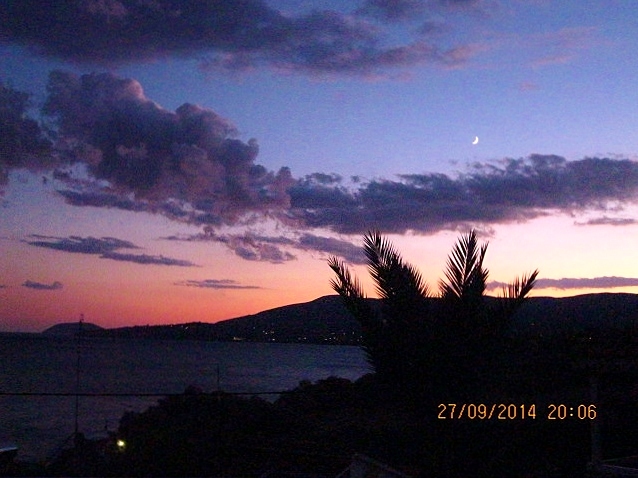 Our nature surrounded place is situated in the most beautifull area of Koroni, spoted next to the very beginning of "Zaga" beach and under the west side of Koroni's old historical castle. It is less than thirty (30) meters from the beach and it will take you no more than one minute walk to be on the sand!. The distance from Athens is 280 Km which is about three hours max driving.
At this part of its beginning, the beach is organised with umbrellas, sun chairs, shower, wifi, beach service, etc. You may have a coffee at your balcony with a beautifull view of the open sea, relax under an umbrella at the beach, go for a romantic sunny walk or enjoy the nature under the shadows of the nearby trees on this fantastic 3 Km long beach.
The closest tavern – restaurant to our place, where you may taste a lot of different traditional and many more recipes, is only thirty (30) meters away. We notice that quality is very good, the cost is normal and there is the option of take-away. Also and allthough being by the beach, the whole surround is very quite, either throughout the day or later at night.
A mini-market is 70 meters away and when going downtown, there is a super market and many other shops and public services.
In just three (3) minutes walk from our place, you will find the west side entrance of Koroni's historical castle. The castle has two entrances – exits, the east from the harbour and the west from Zaga's area and they are open every day 24 h with no entrance fee.
Visit the church of "Holly Mother of Mercy" and the still active old monastery, take your time to walk around the castle, go through its very interesting natural paths to explore it and get to the east side exit on the other side of the castle. At this point and while being on top of the harbour, enjoy a beautifull panoramic view of the Messinian bay and then in just two minutes walk, find yourself downtown in the midle of Koroni's village.
Also from our apartments, by going through traditional and very easily walking shortcuts, you will be downtown in the center of Koroni in no more than four to five minutes.
Downtown and all around the old harbour, there are various taverns, restaurants, pizzerias, fast food, bars and other. Enjoy your dinner next to the old style small fishing boats or just have an ice cream or a dessert, a coffee or a drink, etc. Also, it is very nice to walk in the interesting center of this very traditionall village.
We thank you and we are looking forward to welcome you.