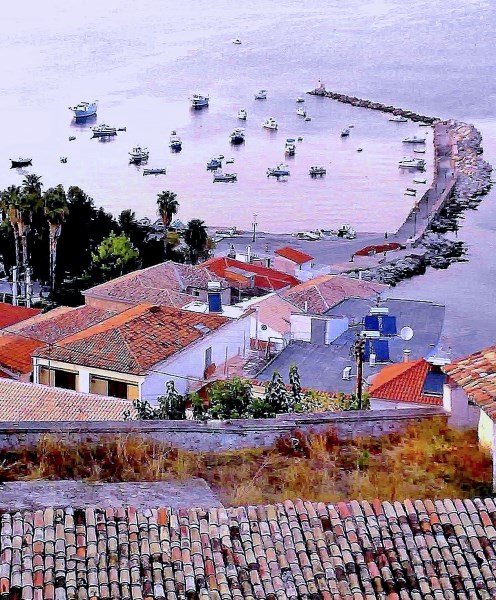 1965.
A young couple from Greece, who was living and working in Canada, was invited by a Koronian friend to his house for visiting Koroni and have some vacations in a new place. In those years, Koroni was known basicly from its history, had only a few visitors and most of the inhabitants were mainly very good farmers and great fishermen.
Being very glad, the couple welcomed the invitation and came to Koroni for first time. During their stay, they had a really great time and became very familiarized with Koroni's hospitable local people. Before going back, there was only one thing that Alex and Nancy knew for sure. Next year they were going to come back again.
As planned, next summer they visited Koroni and stayed at their friend's house again. But this time they had taken a big decission, especially for those years. Allthough having no family roots from this village and despite the quite difficult driving conditions in those years from Athens to Koroni, one of the last villages on map at this southern part of Greece, they had decided to find and buy a small seaside area, in order to have a place of their own.
One morning and while having a walk on "Zaga" beach, Koroni's main 3 km long natural beach, they noticed a beautifull area next to the very begining of the beach, which later became the place for their new home.
The years passed and through these years, they kept on coming to Koroni every year, while finishing their house and doing all the hardwork around.  Very soon, they realized that the whole area of Koroni and especially Zaga beach, had a fantastic climate throughtout the year. So, due to this and because of the village being actually like an island, as it's almost surrounded by the sea, they started thinking of the whole place as being the "California of Europe!".
After 36 years of living in Canada and the USA, they decided to come back to Greece permanently and allthough having their own home in Athens, they decided to move in straight to their new home in Koroni!.
Since 1982 they live in Koroni and it was around 1985 when they finished the interiors of another new building next to their home, with five smaller appartments – studios. Actually, this took place because since the older times, they always wanted to do something for other visitors like they were in the past, so that anyone visiting Koroni could have a very nice and familiar place to stay.
Also, Alex and Nancy wanted to do something so that Koroni will get a bit of "Callifornia" look. After an agreement with the local authorities and while being in the States, they traveled to Callifornia and bought a few small palm trees, which they planted all over their place and in Koroni's village. Nowadays, those "small trees" have become the impressive palm trees which you will see all around in our place and especially when going downtown and by the harbour.
We wish to thank you very much for taking your time to find out the real history of this place and we are really looking forward to meet and welcome you. According to our point of view, a "guest" is always a friend.